Service on Robotics Software & Hardware
Offering a complete range of solutions for predictive, preventative, and reactive maintenance to ensure maximized machine output and extended product life.
Liftians trains your designated employees for basic software support and robotic maintenance. Should an issue arise that your employees cannot resolve, Liftians stands ready via a VPN connection to diagnose and repair your issue 24/7. If required, a technician from Liftians will be dispatched quickly for emergency situations.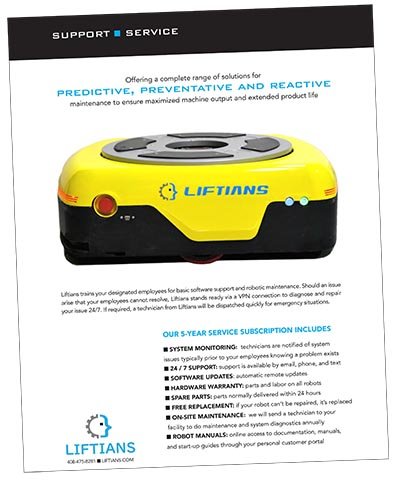 OUR 5-YEAR SERVICE SUBSCRIPTION INCLUDES
SYSTEM MONITORING: technicians are notified of system
issues typically prior to your employees knowing a problem exists
24 / 7 SUPPORT: support is available by email, phone, and text
SOFTWARE UPDATES: automatic remote updates
HARDWARE WARRANTY: normal wear and tear, and labor
SPARE PARTS: parts normally delivered within 24 hours
FREE REPLACEMENT: if your robot can't be repaired, it's replaced
ON-SITE MAINTENANCE: we will send a technician to your
facility to do maintenance and system diagnostics annually
ROBOT MANUALS: online access to documentation, manuals,
and start-up guides through your personal customer portal