Liftians Automated Guided Vehicles
Turn Your Warehouse into a Powerhouse
Liftians AGVs and AMRs are collaborative and work to address a variety of warehouse needs:
eCommerce piece picking.
Pallet case picking.

We test and certify our robots prior to implementation to ensure a successful automation launch.
Our robotic costs are competitive:
Lower than traditional automation equipment and offer an ROI of less than three years.
Robotic automation solutions reduce labor by 50-70 percent and meet CE standards and ensure safe human-robot interaction.
Liftians high efficiency robots are three times the efficiency of traditional labor and provide accuracy up to 99.99 percent.
Flexible solutions make it easy to scale your operation up or down and minimize warehouse operational disruption.
Start realizing efficiency gains within a week of deployment.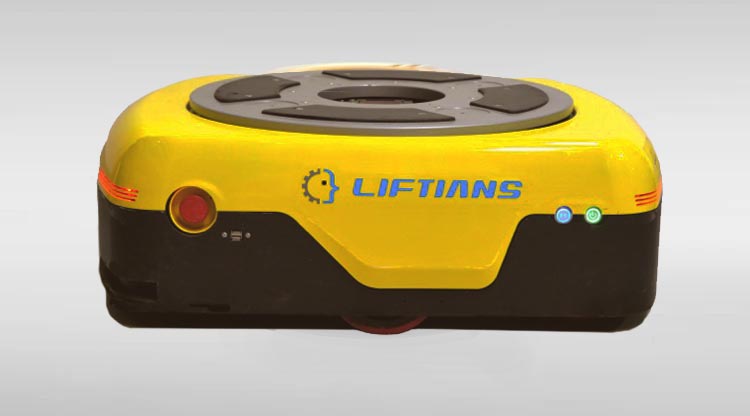 L1000
CAPACITY: 500KG
NAVIGATION: QR CODE WITH LASER, OBSTACLE AVOIDANCE: LASER, DRIVING MODEL: 2-WHEEL CONTROL
SPEED: 2M/S, ADJUSTABLE, COMMUNICATION: WIFI, OPERATING TIME: 24HOURS NON-STOP
CONTROL PRECISION = 10MM, INDICATORS: OPERATING, ERROR, OBSTACLE, ETC., SWITCHES: FRONT & REAR
​L2000 / L3000
CAPACITY: 1,000KG AND 1,500KG MODELS
NAVIGATION: QR CODE WITH LASER, OBSTACLE AVOIDANCE: LASER, DRIVING MODEL: 2-WHEEL CONTROL
SPEED: 2M/S, ADJUSTABLE, COMMUNICATION: WIFI, OPERATINGTIME: 24HOURSNON-STOP
CONTROL PRECISION = 10MM, INDICATORS: OPERATING, ERROR, OBSTACLE, ETC., SWITCHES: FRONT & REAR